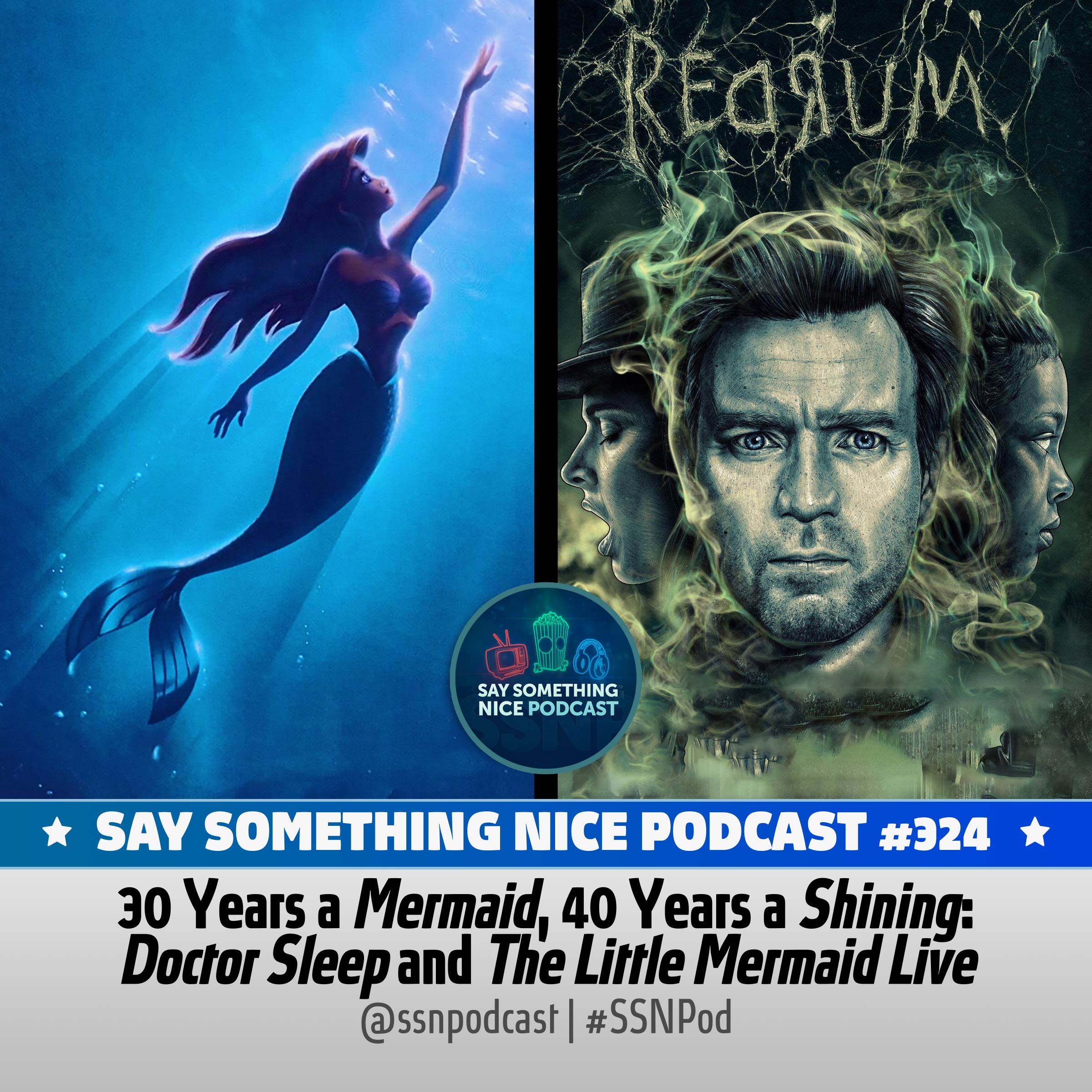 In this episode, the SSN Crew indulges in two big discussions about two very different films celebrating anniversaries with new productions. First up, we discuss Stephen King's classic horror novel "The Shining," the subject of a classic film celebrating its 40th anniversary with a sequel, "Doctor Sleep." Can this new entry following an adult Dann Torrence mentoring a Black teenage girl live up to the legacy of the Stanley Kubrick classic?
Then, we dive back in time again - and under the sea - to explore the dawn of the Disney Renaissance with the making of "The Little Mermaid." That film celebrated its 30th anniversary with a special ABC-TV screening of the animated musical featuring live-on-stage performances of its songs. How'd that work out for them?
All this, plus a follow-up review of "Bigger" on BET+, reviews of "The Good Liar", HBO's "Watchmen", a discussion of what Paramount can/will do now that "Terminator: Dark Fate" and "Gemini Man" have flopped, and more - including a preview of a potential spin-off show, "Say Something Sexy!"
SHOW NOTES:
0:00:00: Say Something Real: Reviews
◦ Doctor Sleep (Film, 2019) - no spoilers!
◦ Love Jones (Film, 1997)
◦ Sparkle (Film, 1976)
◦ Bigger (TV, Season 1, BET+)
◦ Popeye the Sailor, The 1940s: Vol. 3 (Short films, 1948-1949)
◦ Riverdale (TV, The CW)
◦ The Good Liar (Film, 2019)
◦ Deon Cole: Cole Hearted (TV comedy special, Netflix)
◦ The Blacklist (TV, NBC)
◦ Where in the World is Carmen Sandiego? (TV, Season 2, Netlfix)
◦ Dear White People (TV, Season 3, Netlfix)
◦ My Big Gay Italian Wedding (Film, 2018, Amazon Prime)
◦ His Dark Materials (TV, HBO)
◦ Succession (TV, HBO)
◦ Watchmen (TV, HBO)
1:27:40: Say Something New: News
◦ Trailers/previews: "Scoob!," "Soul," "Bad Boys 4 Life"
◦ Tyler Perry's "Bruh" and "Ruthless" coming to BET
◦ "Fresh Off the Air" canceled after six seasons
◦ Apple Renews "See," "For All Mankind," "Dickinson,"" and "The Morning Show" for Season 2
◦ Netflix Wins Horror Package "The Unsound" From "Shazam!"" Helmer David F. Sandberg, BOOM! Studios & Skylar James
1:50:41: Say Something Rel: Main Discussion
◦ The History and Making of Disney's "The Little Mermaid" (1989)
◦ "The Little Mermaid Live" Review
2:33:47: Say Something Nice Challenge
◦ The Paramount Problem: Can studio rebound after "Terminator: Dark Fate" and "Gemini Man"?
WHERE TO FIND OUR SHOW:
Come join our Facebook group: http://ssnpodcast.com/fbgroup
Want to help support the show? Visit http://ssnpodcast.com/donate/ to leave us a PayPal donation!
Check us out on social media:
Twitter: http://twitter.com/ssnpodcast
Facebook: http://facebook.com/ssnpodcast
Instagram: http://instagram.com/ssnpodcast